Ergonomic Assessments
Office Check
Office Check is simple, efficient and cost effective. It's a perfect solution for both big and small offices. Office Check is our web-based office ergonomics solution that is customised for your organisation. Office Check comes with all the ergonomic options you need at a fraction of what you'd pay for similar programs.
Office Check is quick to administer and allows us to gather risk data from your employees while delivering general and personalised web-based self-improvement. Plus Office Check facilitates additional assessment if needed while Prescribe manages and measures the performance of your office ergonomic program.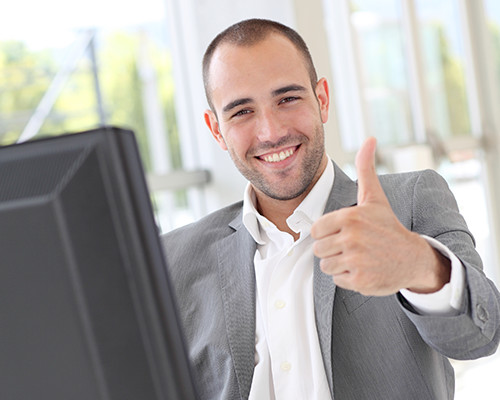 Why it Works
Minimise the adverse impact of computer work on health
Ergonomic recommendations and equipment supplied when required
Office specific exercise and stretch breaks
Utilise the equipment you already have to improve ergonomics
Manage the pain and strain of long days at the office
Safe workstation setup
Office Ergonomics
You may have heard it multiple times, we don't perfrom heavy manual handling, we work at computers or operate machinery… so why then is seated ergonomics included in the hazardous manual task code of practice?
While it may not appear that working at a computer is a 'manual task' it in fact is. The following characteristics can make working on a computer a hazardous manual task:
it involves repetitive and sustained force (mouse);
it involves repetitive movement (typing on keyboard, clicking mouse, data input);
it involves a sustained and or awkward posture (sitting places more load on the back than standing and poor ergonomic setup);
Hazardous characteristics directly stress the body and can lead to injury or disease. This means it could contribute to a musculoskeletal disorder (MSDs) often as a result of overuse. Workers Compensation statistics additionally show that there is an almost equal proportion of body stressing injuries with both blue and white collar workers
Compliance
Regulation 60 of the Work Health and Safety Regulation 2011 specifies that a PCBU must manage risks to health and safety relating to a musculoskeletal disorder associated with a hazardous manual task
The early intervention ergonomic assessment is a simplistic assessment of the workspace. Practical recommendations will be provided to the workers reporting pain and discomfort and strategies will be provided to prevent this developing into a compensable injury.
To prevent injuries for the rest of your workforce see our Safe 2 Sit programs
The injured worker ergonomic assessment will identify the risk factors at the workstation causing injury and find simple, practical and cost effective solutions to these problems.
During the workstation assessment Prescribe will work with your injured worker to complete the following:
Analyse all aspects of the workstation - chair, desk, monitor, keyboard, mouse and correct position for this equipment.
Evaluate the employee – Posture, job or task requirements and adjust the workstation to fit the employee.
Recommend injury prevention and injury management strategies tailored to the individual employee
Advise on suitable rest and stretch breaks throughout the day to minimise injury risk
Recommend any appropriate equipment that may be required
Report to be provided to the business
Contact Us
Are you ready to get started? contact us now via phone now or alternatively, feel free to contact us via our form to the right.
Get the Best Manual Handling Advice